Are you one of those people who loves to pack your travels with as many experiences as possible?
Maybe you're like some of our students who, after morning classes, lunch, and afternoon cultural activities, are still searching to fill their evenings with as much excitement as possible. In honor of those students, and you, we've created this list of things to do on a weeknight.
Parque de las tripas
Have you ever tried intestines? To lessen your initial disgust, it helps to call them tripas.
It also helps to eat them hot off the flaming grills in the heart of la Floresta just a few blocks from Vida Verde Spanish School.
This isn't all Parque de las Tripas has to offer. It's also widely called Parque de las Comidas Típicas, and it specializes in serving up traditional quiteño fare daily starting at 5 pm.
Try an empanada de viento with its crisp exterior dusted with sugar and its airy interior filled with cheese. Other stellar options include morocho–a corn-based drink seasoned with cinnamon, freshly fried tilapia, and llapingachos–cheese-filled potato patties served up with a plate of brightly colored veggies. But really, the flavor of those tripas…it's worth fighting your squeamishness.

Language Exchange el Cafecito
A walk from La Floresta into La Mariscal will bring you to el Cafecito. This chic coffee shop also offers up delicious food, desserts, and alcoholic beverages. Their tea is the real deal. It comes to your table as a kettle filled with steeping fragrant herbs.
A major draw for Spanish learners, however, is the Wednesday evening Language Exchange event that meets there (6:30 pm). English and Spanish speakers swap between their languages as they converse and enjoy the cozy ambiance of el Cafecito.
Astronomical Observatory 
Moving a few thousand meters closer to the stars makes them look brighter, even when city lights try to interfere. One place to get a full tour of the stars above Quito is the Astronomical Observatory.
During the summer, it's open for stargazing on Wednesday and Thursday nights with a reservation in advance. During its daytime hours, you can admire the plethora of unique 19th-century astronomical gadgets that the museum houses. Visit their website for more information.
Plaza Foch
Party it up at Plaza Foch any day of the week. It's called "Gringolandia" by the locals here because of its popularity with tourists. Try out trivia (in English) at FinnMcCool's.
Bandidos has a great upper patio to relax and chat with your friends over some artisan beer if that's more your style. Also, watch out for bars showing the big fútbol games going on and join the party.
La Ronda
Lively plazas lined with grand churches fill Quito's Historic Center, and majestic mountains always frame the view. It's a no-brainer for an afternoon adventure. However, once evening hits, the best place to be in el Centro Histórico is la Ronda.
This street has a history. Starting as an Incan path to water, then as a Bohemian hang-out, it's now a culture-filled destination in the heart of Quito.
Walking along the narrow road lined on both sides by picturesque buildings, you'll pass live musicians and dancers, the biggest empanadas you've ever seen (empanadas de viento), and countless venues offering traditional drinks like canelazo.
Watch the Sunset from Volcano Pichincha
A breathtaking view of Quito illuminated by the setting sun starts with a ride up the TeleferiQo. This is a cable car that brings riders up the Pichincha Volcano that guards the western side of the city of Quito. From the top, you can hike along paths that bring you to scenic lookouts. Because Quito is so close to the equator, the sun sets at about the same time every day: 6 pm.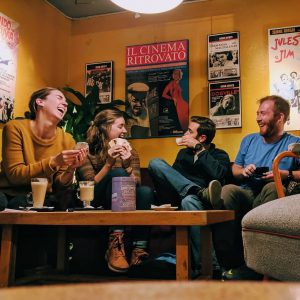 Ochoymedio
It's the perfect mix of ambiance, coffee, and independent films, and it's located right here in La Floresta!
With goals to enhance the cinematographic culture in Quito, Ochoymedio has multiple theaters to show productions from Ecuador and all across Latin America as well as host live events. Check out their website to see what they're showing tonight.
Salsoteca Lavoe
Marvel at the impressive salsa dancers that frequent this Salsoteca! This is one of the top Salsa clubs in Quito, and you won't want to miss out on a night here.
It's the perfect excursion after you've taken a couple of days of Salsa lessons with us. You can always sit and watch in awe as everyday Ecuadorians partner up and dance effortlessly, but it's so much more fun if you join them!
Ladies, don't be surprised if someone offers you there hand and pulls you onto the dance floor!
If you're looking for the full experience, these weeknight activities are a great compliment to our culture immersion program here in Quito. Check it out!