Learning Spanish and Meeting People at Vida Verde, Quito
The following is a review written by one of our past students, publicized by his permission:
This September, I stayed at Vida Verde for the second time, and again, my expectations were not dashed. Two weeks of a crash course in the morning, activities in and around Quito in the afternoon immersed me into the language and the culture of Ecuador.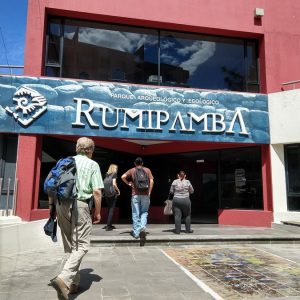 The idea was to get me into shape for a tour in Columbia after the good experience at Vida Verde of last year. But it got even better. I, as a senior participant, became quickly integrated into a larger group of young students from all over the world, open minded and out for discoveries.
Different teachers trained us in various lessons, well adjusted to our abilities; it was equally challenging and pleasant. Hipatia trained us with stamina and patience. In the afternoons Luis, an intelligent and dynamic young ecuadorian teacher, introduced us to the variety of culture and architecture of Quito and Ecuador. We visited Quito, its museums, art galleries and last but not least one of the unique fruit markets of Quito!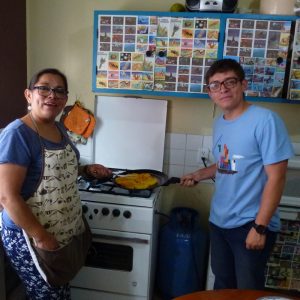 Rosa, director and "mother" of the school, always available for advice, one day cooked and had with us one of these tasty typical and unpronounceable equadorian meals: "Llapingachos". Fernando, her "right hand man" with a great sense of humour, shines on Fridays with his amazing talent as a latin "musico". Then, the whole school sings and plays the guitar these wonderful latin american folklore songs like: "A mi lindo Ecuador!", "Ojos Azules!", "Carinito!", "Flaca!" and others.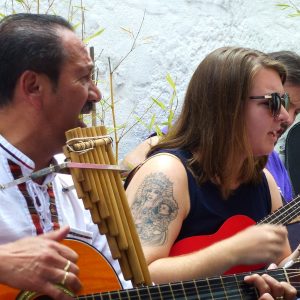 One Saturday, a group of us went to Otavalo, one of the biggest and most authentic artesenal markets of Ecuador. It was very impressive and gave us an idea of the indigenous background of Ecuador. Afterwards, we went for a refreshing bath in the waterfalls in the nearby mountains.
My last weekend in Quito, I went to Banos, a famous thermal spa in the Andes, in order to join a group of young American students of the school. It is a spa, but a type of spa which we hardly know in Europe, including extreme sports facilities (!), like bungee jumping, canopy, giant swings over the abyss on top of the mountains and bike rides along roads in the mountains, with heavy traffic. Somewhat more appropriate for people who like adrenaline.
Altogether, I left Quito, full of great memories, crammed with Spanish and affected by the warmth and friendliness of the citizens. At the beginning of a new adventure.
" Que le vaya bien Vida Verde! Y abrazos a todos!
Saludos desde Alemania,
Hagen