My Experience Volunteering in Ecuador
Hello, my name is Paula and in 2018 I spent two months in Ecuador. I didn't know any Spanish when I arrived in Quito and therefore I went to Vida Verde Spanish School to gain some basic knowledge of the Spanish language. Not knowing exactly where my journey would take me during my time in Ecuador, one of Vida Verde teachers offered me to spend two weeks at an organic farm (finca orgánica) as a volunteer in the tiny little town of Chontal.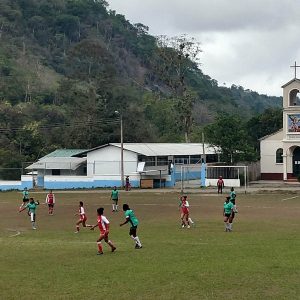 The finca is up on a mountain that surround the village of Chontal. The house is surrounded by banana trees, cacao trees, corn fields, coffee trees and hen houses, and the landscape is just breathtaking! Mountains all around you, rivers and VERY green forests. I lived there with the operator of the farm Suzanna and her daughter Marie-Belen.
What I Did
We got up every day between 6-7 am. Right after breakfast we took care of all the animals (preparing food and water). That took until noon. After lunch we harvested: bananas, cacao and sometimes limes and oranges (it wasn´t coffee season when I was there). I often would help Marie-Belen dry the corn, cacao and other foods in order to store them for future use.  I also helped Suzanna with maintaining the house and cooking.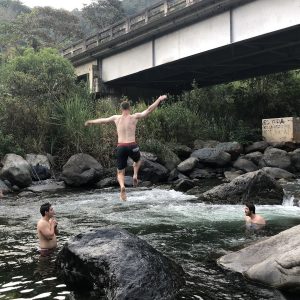 On the weekends we went down to the village. We spent a lot of time with the rest of Suzanna's family; playing volleyball, fútbol, card games, or swimming in the river (I learned to get dressed very quickly after swimming because I got stung by so many little mosquitos, that I could't sleep the next nights). One weekend there was a football competition and that's where I learned a lot about the Spanish football-vocabulary. We also went to a market, where you traded your goods against another goods, not money. On Sundays we attended mass in the local church. That was really interesting for me because I never had that close contact to the Catholic Church.
What Chontal Meant to Me
Of the two months I spent in Ecuador the two weeks on the finca were the best weeks of my whole stay. I felt so comfortable and safe. And that's most of all because of Suzanna. She is such an open, genuine and also really funny person (and not to forget a very, very good cook). Her daughter Marie Belen has downs-syndrome and she taught me how to appreciate things I normally didn't pay a lot of attention to. For example how the sun shines through the clouds and how pretty that looks. And I have to thank the rest of Suzanna's family. There were so kind and open and REALLY patient with me and my Spanish skills. They made it very easy for me.
I'm really glad I had the opportunity to stay in Chontal. It's a very rural area, so you get to know a lot of the Ecuadorian culture. Added to that most of the people don't speak English so you have to speak Spanish. It's challenging but you grow with the experience. And besides all of these nice side effect, most of all I'm so happy to have had the opportunity because of all the nice people I met there!