At Vida Verde, we feel very lucky to be located in the Floresta neighborhood. As one of the most popular and safest neighborhoods in all of Quito, we love to show our students around to take a look at the street art and experience its culture first hand. Almost more importantly, we love to show students around and introduce them to the wide variety of food offered. The neighborhood is widely known for its fancy and higher priced restaurants (see Noa for example) but we know that many of our students are not able to spring for a high priced meal.
Below, are some of our favorites for those of you who want to want to eat food BBB (bueno, bonito y barato). All restaurants offer great food for less than $4.00 per meal.
Pizzeria Amici Miei La Floresta
After trying the pizza from Amici Miei, you will not want to have pizza from another restaurant in Quito. The owner is dedicated to clean, local eating and it offers homemade, completely organic pizza in a lovely atmosphere. Watch as the chefs prepare the pizza in front of you and slide it into the wood fired oven. As for drinks, don't miss their homemade tea or craft beer selection.
Recommended Dish: Any pizza. They´re all delicious.
Price: Personal pizzas around $3.50
Address: Madrid E16-99, Quito 170136
Empanadium
The Empanadium specializes in delicious empanadas. You can choose among a wide variety of empanadas made in the Ecuadorian, Chilean, or Argentinian style. The best part of the Empanadium however: the sauce. The restaurant offers 3 varieties of incredible homemade sauce with its empanadas. After you finish your normal empanadas, don't miss out on the dessert empanadas.
Address: Calle Guipúzcoa, E13-80, Quito 170525
El Parque Navarro- Traditional Street Food
El Parque Navarro is not a restaurant, but every evening from 4:00pm until 11:00pm a wide selection of food stands open for business, offering a variety of delicious and traditional Ecuadorian street food. El Parque Navarro is commonly referred to as El Parque de las Tripas which translates to Pig Intestine Park, because it is famously known for a food stand which pours out smoke and serves up plates of sizzling intestines.
We don't recommend that travelers eat street food from most locations, but the Parque de las Tripas is an exception (along with the Pinchos of the Floresta). The government of Quito has certified all of the stands, and the park is always jam packed with people- Ecuadorians and foreigners alike.
Recommended Dish: Pig intestines for the brave of heart
Price: varies depending on the food stand
Address: Parque Navarro
Almuerzos
Almuerzos are the mainstay for the middle class Ecuadorian. The Floresta neighborhood offers great lunches at a very affordable price. They are normally nothing fancy, but they offer an economical menu to choose from that is fixed every day. Almuerzos always come with a homemade juice, a delicious soup, and a 2-3 different main courses to choose from. Some restaurants will also offer a dessert. Below are two of our favorite restaurants for lunch in the Floresta.
Mama C'chara
Mama C'chara is a gem of a restaurant hidden in the heart of the Floresta. Not only does the restaurant offer delicious home cooked food, but it provides a familial atmosphere where you will feel comfortable from the get go. The owner of the restaurant is an older Ecuadorian lady and the food tastes like grandma's cooking!
It is located on a quiet side street, but boasts a consistent clientele of local Ecuadorians who eat there every afternoon. The lunch comes with a homemade juice, three options for main course and a desert.
Price: $3 for a lunch
Recommended Dish: Almuerzo of the day
Address: Mallorca y Madrid 
Mr. Encebollado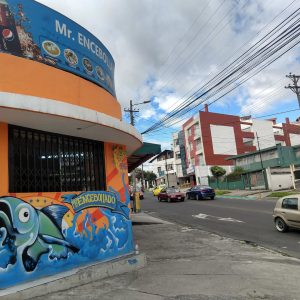 Mr. Encebollado is another local favorite located in the Floresta. The restaurant offers great food at a very reasonable price. However, what really sets Mr. Encebollado apart is that every lunch comes with all you can eat salad. Don't like the lunch options for the day? No problem, order a large bowl of Encebollado soup, available every day. Come on a Friday to try a chef specialty for a slightly elevated price.
Price: $2.50 for a lunch, $3.00 for a bowl of Encebollado
Recommended Dish: Almuerzo of the day
Address: Av. Ladrón de Guevara 173, Quito 170143
Food on the Go
The Pinchos of La Floresta
Grab a Pincho (meat on a stick) near the roundabout of the Floresta. They are cooked over a charcoal grill. Most people quickly scarf it down next to the grill, but you can also take it to go in a bag.
Price: 80 cents
Recommended Dish: Pincho de Carne
Address: Near the roundabout of the Floresta
Humitas de la Floresta
Las Humitas de la Floresta offers a variety of economical and quick food. Choose from Humitas (cornmeal tamale stuffed with cheese), chicken tamales, Quimbolitos (a sweet, cornmeal dessert that has raisons), or balones. Anything from here goes great with a Pincho and a coffee!
Recommended Dish: Humita with Coffee
Price: Humitas from 60 cents
Address: Madrid, La Floresta E14-112, Quito, Pichincha 170143
These restaurants are just a few of our favorites that serve great food for cheap! If you're interested in exploring or living in the Floresta Neighborhood of Quito, contact us today! We have formed partnerships with many local families and we can arrange a homestay for you today.